We all know that first impressions are important. And when it comes to your nails, there's no exception! That's why we've put together some amazing pop art nails ideas for you to try out. Whether you're looking for a subtle touch of color or something more bold and eye-catching, these designs are sure to impress. So, go ahead and give them a try – your nails will thank you!
Pop art nails tutorial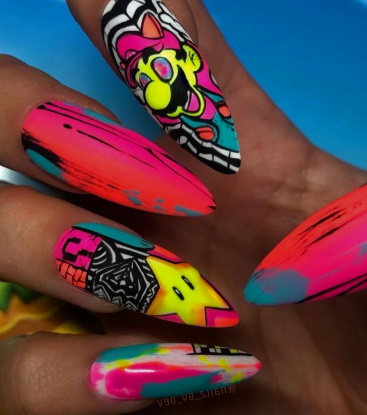 If you're looking to add a touch of fun and creativity to your nails, then pop art nails are the perfect way to do it! With so many different designs and colors to choose from, you can let your personality shine through. Plus, they're a great way to show off your sense of style and make a statement.
One of the best things about pop art nails is that they can be as simple or as elaborate as you want them to be. If you're not sure where to start, check out some of these ideas:
Use bright, bold colors for a truly eye-catching look.
Create patterns and designs using different colors and shapes.
Go for a more subtle look with pastel colors or white designs.
Use glitters, rhinestones, and other embellishments to add some sparkle.
Whatever design you choose, make sure to have fun with it! Pop art nails are all about being creative and expressing yourself. So, let your imagination run wild and come up with a design that's uniquely you.
How to DIY the pop art nails trend?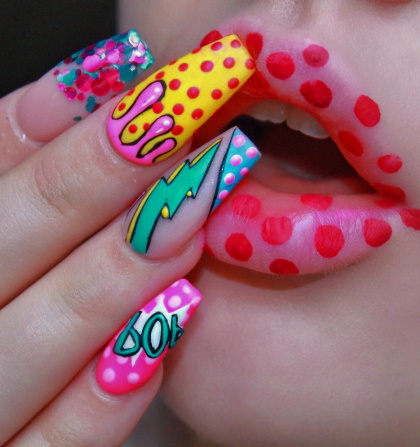 This trend has been huge in the fashion and beauty world this year, and there's no doubt that it will be just as popular next year. So, if you're looking for a fun and unique way to wear your nails, then pop art nails are the way to go. Here's how you can DIY this look at home.
Begin by painting your nails with a white base color. This will help the colors of the pop art design stand out more.
Next, use a dotting tool or a toothpick to create small dots of color on your nails. You can use any colors you like but stick to bright, bold hues.
Once you have created your dot design, use black nail polish to create outlines around the dots. This will give your nails a more polished look.
Finally, seal in your pop art design with a top coat, and you're done! Enjoy your new nails.